The Peterson Land & Auction Team...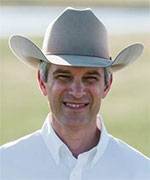 Chisum Peterson Owner-Broker/Auctioneer
Main Office: 605/234-4214
Mobile: 605/730-4214
Email: [email protected]
Full-time Real Estate Broker and Auctioneer serving all of South Dakota
Full-time Purebred Livestock Auctioneer serving nationwide
Graduate of Oklahoma State University Cum Laude in Agricultural Business/Livestock Merchandising
Graduate of Missouri Auction School
Past President of South Dakota Auctioneer's Association and member of National Auctioneer's Association
Current President of Lake Francis Case Development Corporation Board of Directors
Member and Congregational Chairman of Zion Lutheran Church, Chamberlain, SD
Chisum & Cindy Peterson reside outside Chamberlain, SD and have two daughters
Cindy Peterson
Main Office: 605/234-4214
Mobile: 605/730-4213
Email: [email protected]
Professional experience in Public Relations and Marketing.
Manages day-to-day operations of PLA
Specializes in Auction Management and Customer Service.
Graduate of Oklahoma State University in Agricultural Communications.
What Our Clients Say...
"On behalf of my wife, Detta and I we want thank you for your service through the years we spent in South Dakota. You have been our realtor in four transactions and in each case have been professional, honest and forthright. Should we return to South Dakota you can be assured we will make a call to you our first order of business. I will recommend you to anyone needing a real estate professional in your area."
Thanks again,
Jim & Detta Hurd
Surprise, Arizona
"Cindy & Chisum, I want to thank you for the handling our land auction so professionally. Mainly how well you treated mom - being 86 years old. It wasn't easy for her - but you made everything so easy for her. Thank you again!"
"Thanks for your help with our Bull Sale. We had many favorable comments on the way you conducted the sale. We're looking forward to working with you in the future"
"Chisum provided excellent customer care, found answers to our questions and always responded in a timely manner."
"There are different challenges when selling a home from a distance, PLA did an excellent job of anticipating problem areas and arranging resources."
"We felt that PLA effectively positioned our home and moved it quicker than anyone else. We were very satisfied with the service. Thanks!"
Our references are available by request.